Odpady cywilizacji chrzęściły mnie pod nogami botak. W swoich nadobnych obcasach zaszpanowałam normalnie w przyrodzie plenerowej jak nie wiem. Bo wiecie. Każdy normalnie blogujący Szafiarz a nie wieśniak z telefonem musi "robić plenery" Najlepiej w gaciach w kwiatki albo w paski bo to tera najbardziej modne. Ja jak widac modna też jestem, zarówno jeśli chodzi o plenery jak i o gacie o kwatku nie wspomnę. Plener sztuk raz jest, gacie na sobie mam, ale pod spodem a kwiatek jest po prawo za winklem i do tego żywy a nie na tych gaciach. . Mój plener jest normalnie zajebiaszczy. Trochę capił ale trudno
Wypowiadając się o najnowszym trendzie, który zaobserwowałam w okolicach uważam, że pasuje mi on jak pięść do oka i w zyciu tu nie uwidzicie zadnych majtasów we stokrotki albo inne kolorowanki z łąki.. To tyle o trendzie. Statystów dzisiaj dobrałam takich jak widać, zwłaszcza Peta. Pet Statysta należał do Bordowego Józefa co te butelki po piwie w kącie za mną zostawił trzy miesiące temu. Cham po prostu, za co normalnie przepraszam.
Uszanowania. GB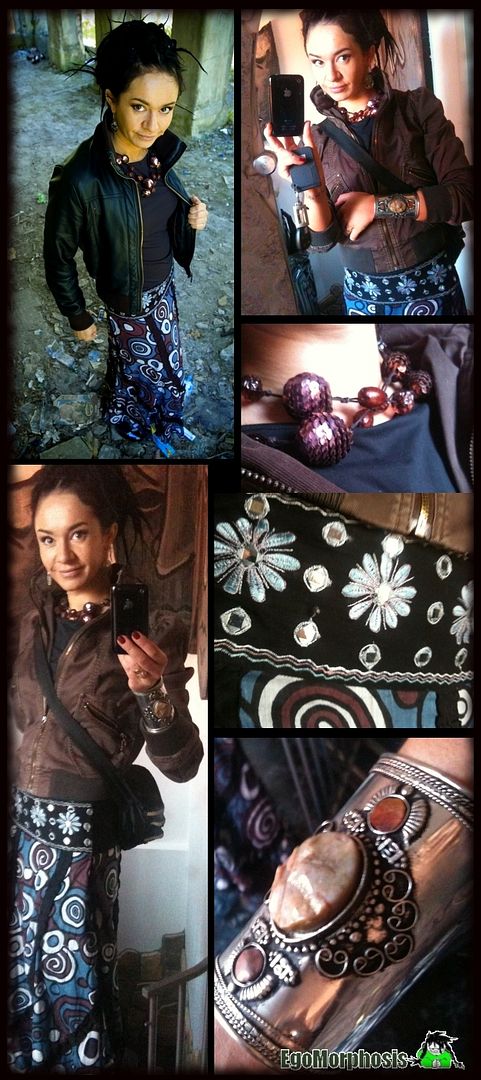 Pix by Ikarus & Ludź Iphone
Spódnica : Indie Kalkuta
Naszyjnik: Stra-ga-nik
Kurtka: SH & Chińczyk z Maximusa
Nerka: Targ żywności z dodatkiem odzieży.
Bransoleta: India Shop
Kolczyki: India Shop
włochy: Dopinka dreadowa
enchantedlocks
Prezencja: NaDworna und PrzedpoHolowa
Statyści: Ikarus, Iphone, Pet, Cappik, Butelek Popiwek, Płotek & MordaArt by L.M.Production