Dzisiaj moje drogie duszki będzie o tem jak to być debilem w ciąży, skakać nieswobodnie po konstrukcji drewnianej i zwisać na szmatach i tydzień przed porodem wybudować sobie konstrukcję sosnowo-dębowom o szyciu nie wspomnę. No więc najpierw do chaty wjechało sześć bali. Potem te bale postawilim i na wierzchu przybilim górne łączne. Pod temi balami umieścilim rozporniki do zasłon prysznicowych, co by nanizać nadobne płachty burakowe ze wzrokiem.
Wspomnę może tylko o tem, że największa frajdę sprawiło mnie osobiście uratowanie dwudziestoletniego narożnika made in PRL co niejedno widział i niejedno wchłonął. / O pomidorowej mówię na przykład lub innej tam herbacie tego ten tego ten.../ Narożnik otrzymał nowe zagłówki, które wypiłowaliśmy z moim najdroższym Papą und Tomasem, nałożyliśmy na to gąbkę a następnie całe klu pomysłu "na" czyli hyszpańskom tkaninę ozdobnom co ją do tej pory uwielbiam za to iz jest hyszpańskom tkaninom ozdobnom.
Poduchy poszły w ślad za zasłonami, bo je z tej jednej / trzeciej/ wycięłam i uszyłam pokrowce na Spong Boba, frędzel zwiss, wszystko gra. Potomek, co otrzymał swój salon w prezencie zadowolony jak nie wiem, bajzel codziennie trza sprzątać - a jakże ale o wiele bardziej pasi mnie sprzątać bajzel orientalny niż taki z IKEA albo innego tam modern art gdzie dzieciak otrzymuje stolik ze stali nierdzewnej, z którego łatwo jest wytrzeć pawia.
Wycięłam zatem swój stoliczek z nadobnego drewienka, szablonik z tekturki i machnełam takie cuś co tam pod tą lampą Alladyna stoi. Szafki z odzysku posiadły kolor mahoniu plus uchwyty a cała reszta wjechała do saloniku zara potem, jak Krzyczący Potomek zagościł po drugiej stronie brzucha :)
Sufit podwieszany przywiozłam w głowie z Hurghady, bo kumpel obok w sklepie zrobił sobie podobny, tylko z aksamitu. Jakbym se powiesiła aksamit to bym chyba musiała co roku budować ten pokój na nowo a dekorancjum zdejmować w masce gazowej na twarzoczaszce. Dlatego też całe konstrukcjum jest lekkie i łatwe do uprania a nanizane wokół żyrandola na kółko co było uchwytem do wieszaka w kiblu.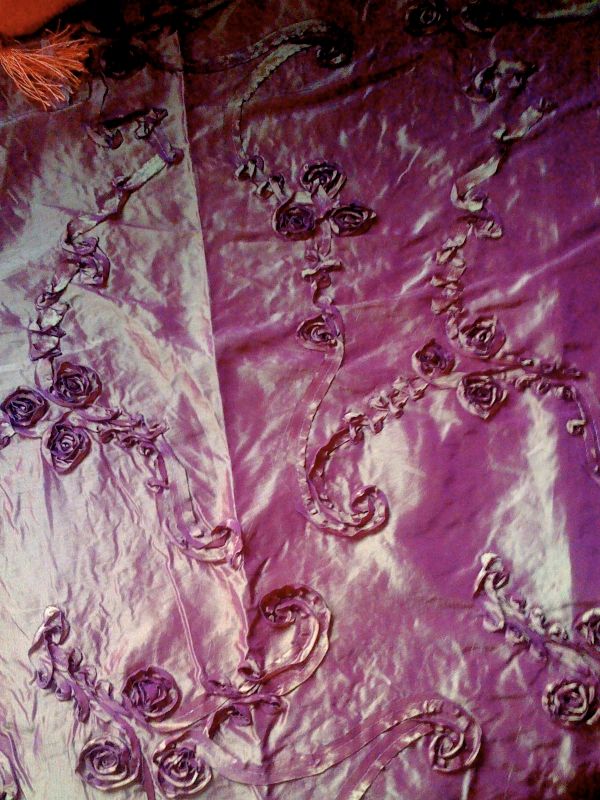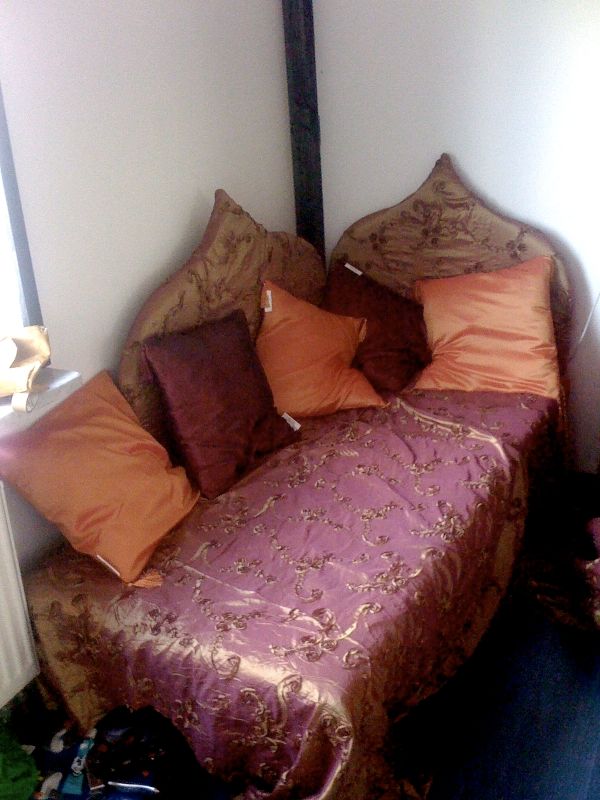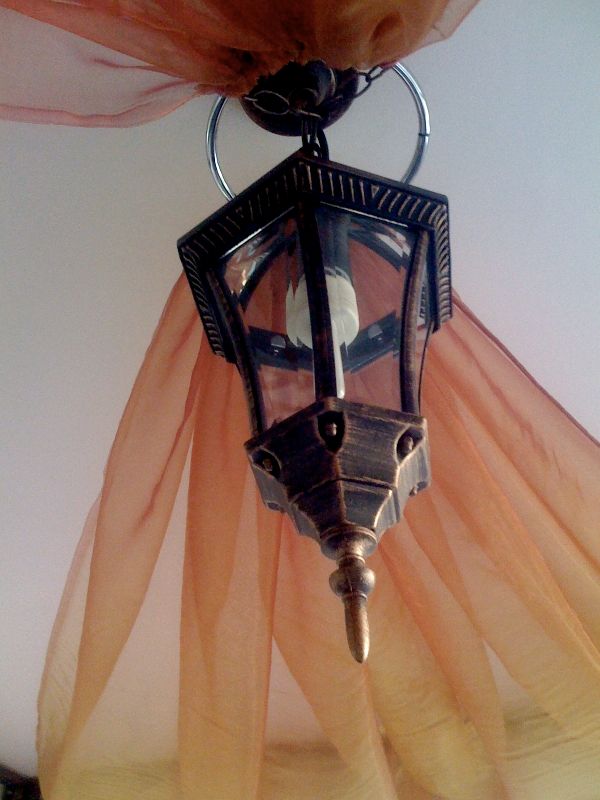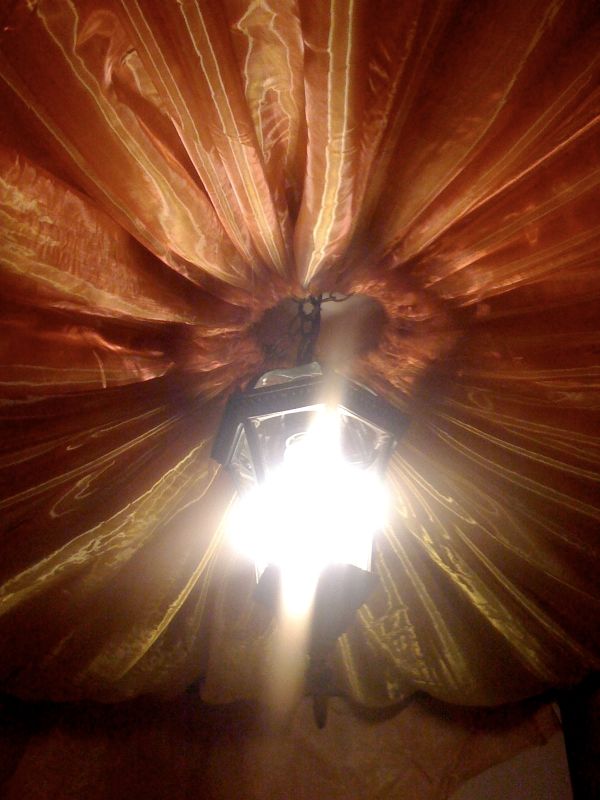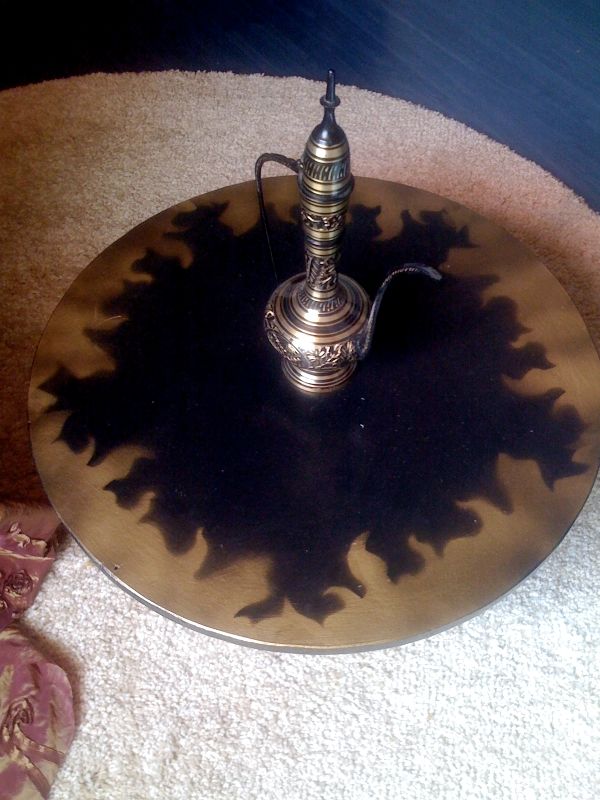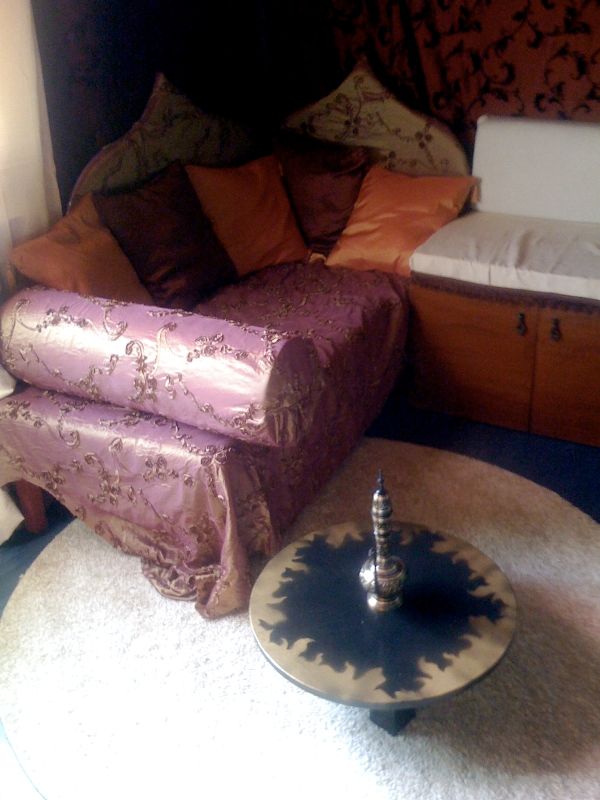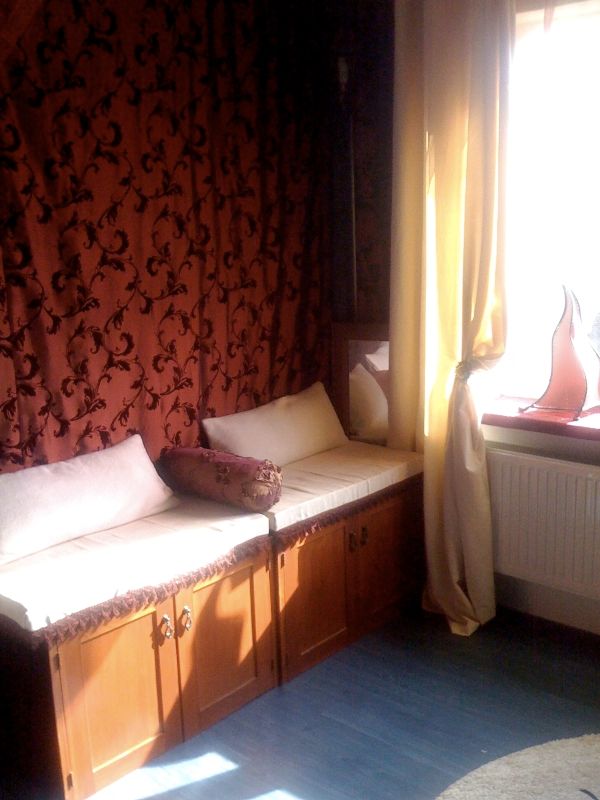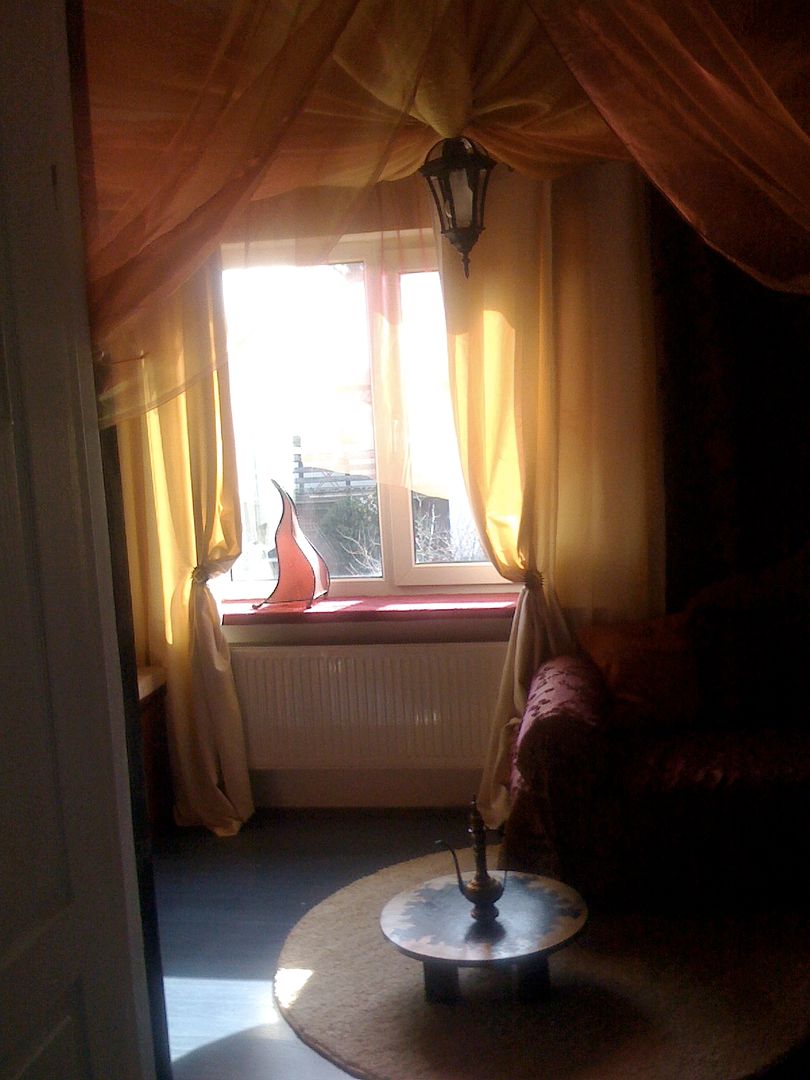 Zatem.
Pozdrawiam wszystkie Panie Matki co też lubią porąbać drwa zamiast kupić gotowe. I wszystkie te co lubią ratować zdechłe vintydże.
Uszanowania
GrossBoss i Leila Statysta co tu tydzień miała więc jeszcze trochu pomarszczona zaległa na tych poduchach :)