Jak mata córki sobie normalnie zaplanujecie iż:
- wasza córka
NIE BĘDZIE CHODZIĆ NA RÓŻOWO
- wasza córka
NIE BĘDZIE BAWIĆ SIĘ LALKAMI BARBIE
- wasza córka
NIE BĘDZIE ŻUŁA GUMY MAMBY
- wasza córka
BĘDZIE SIEDZIEC GRZECZNIE W POKOJU I BAWIĆ SIĘ MISIEM
- wasza córka
NIE BĘDZIE OGLĄDAŁA BAJEK NA LAPTOPIE ZWLASZCZA KRÓLEWIEN I POSTACI KTÓRE POWODUJĄ WYDANIE 100 ZŁOTYCH NA DUPLIKAT W POSTACI UBRAŃ LUB OKOLICZNOŚCIOWEGO ZESTAWU KOLEKCJII.
Proszę zapomnieć.
Zagorzałą zwolenniczką kolorów nie pospolitych jestem straszną a więc oczywiście założyłam sobie opcje pomarańczową zamiast różowej. Dlatego tez w szafie Leili króluje kolor majtkowo pudrowy róż razem z oczogjebną odmianą fuksji a moje gały wychodzą mi za uszy ilekroć otworzę wrota portalu ubraniowego z Krainy Disneya.
Następnie wykonuję slalom pomiędzy trzema golasami Barbie – w tym jedną Panią DOTKOR / Bo one muszą być rozebrane i mieć gołe ręce mamusiu/ potykam się o ich małe córeczki które też są już golasami a ciuchy leżą pod lodówką / bo Zuzia i Fruzia będą się ze mną kąpać w misce i mieć gołe ręce mamusiu/… aby dotrzeć do dużego pokoju, gdzie wyje sto dalmatyńczyków, Florek, Arielka, Kopciuszek z Anastazją co się zakochała / notabene ten zwrot "Tak matko" to zgadnijta skąd to/ na przyjęciu Pani Imbryk u Belli i Bestii o Piotrusiu Panie nie wspomnę.
Mój pióropusz
wygląda jak truchło zdechłego koguta, który poległ w walce na ostrogi a moje super koszulki rozmiar 98 na lat dwa z napisem "punk is not dead" mogę se w zadek wsadzić.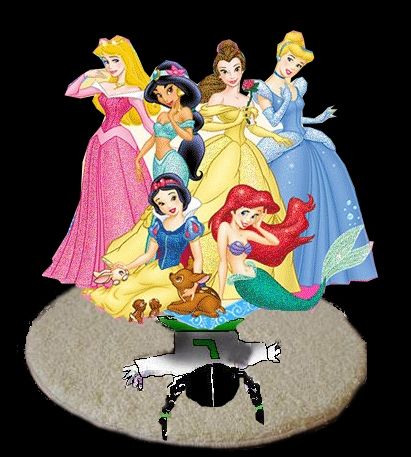 Leila siedzi na podłodze i bawi się Barbie Pani Dotkor golas 1 plus Barbie golas 2 plus Fruzia
- Zobacz Fruziu. Ty nie masz pierściona tylko pani Doktor ma pierściona
- Leiluka. Mówi się pierścionek a nie pierścion
- Nie matko. Przecież ona ma w tym pierścionie mleko.

To ja już poszłam.
p/s zaplecze ==>>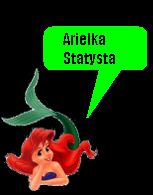 &