Fashion Fict Faction by LMProduction Part 1.
Fashion Fict Faction by LMProduction Part 2.
Fashion Fict Faction by LMProduction Part 3.
... Zastanawiałam się jak szybko można było no wiecie… w tamtych czasach. Kiedy od pasa w dół byłaś wyposażona w pantalony, cztery halki, fiszbinę z kłów walenia czy innego tam zwierza, poduszkę na dupę i oczywiście kiecę wielkości Wrocławia. Przecie nawet teraz są problemy, żeby stojąc w korku nie siknąć w jeansy a co dopiero w takim zamku, gdzie kibel znajdował się pół kilometra od komnaty.
Taka królowa na przykład.
Ubrana od stóp do głów w dwadzieścia kilogramów wymienionych wcześniej kiecek i halek i nagle jej się zachce. No… tutaj jeszcze można by na przykład wywiercić dziurę w tronie i nawet jak siedziala przy stole to mogła se podwinąć te kobierce i kilimy oraz dyamenta, zrobić co miała zrobić. Pod stołem przeczołgałby się jakiś hrabia albo baron co chcial się podlizać, zabrał nocnik i wylał za okno do fosy. Móglby tez zarobić sto dukatów sprzedając siuśki Królowej na targowisku za tą właśnie fosą.
Co jednak kiedy zachciało się Królowej coś cięższego? Czy wypadałoby chlupnąć w nocnik podczas kolacji? Trzymając w zębach udo bażanta? Tja… Myślę, że to był jeden z powodów, dla których kobiety zrzuciły z siebie osiem spódnic. Po prostu miały dwa wyjścia. Albo narobić w koronki, albo założyc pod spód majty hip-hipowca. Takie z krokiem w okolicy kolan. Wtedy w takich majtach umieszczałoby się pojemniczek awaryjny, gdzie zanim by dobiegła jedna z drugą do tego wychodka, mogłaby sobie wykonać zaliczkę. Jak wszyscy wiemy, bardzo niewygodnie jest jednak biegać z pojemnikiem miedzy nogami, nie mówiąc o trafieniu do niego tak, aby nikt się nie domyślił, więc to był chyba przełom.
Tak więc kobiety zrzuciły kilka warstw kiecek i pojechały po rycerzach, parobkach, mężach, ojcach i braciach, aby im konieczkie zamontowali te wychodki. Jak widać, zamontowali im te wychodki, a nawet lepiej! W takim Londynie udało się nawet stworzyć pierwszą w Europie kanalizację. To, że po pół roku wybiła i szambo przez dwa miesiące unosiło się na wysokość drugiego piętra to nic! Ważne, że kible były i to blisko. Tamiza do tej pory śmierdzi, ale to chyba nie przez to. Zresztą. Wisła też śmierdzi. I Odra i Warta i nawet. I kanałek w Koziej Wólce.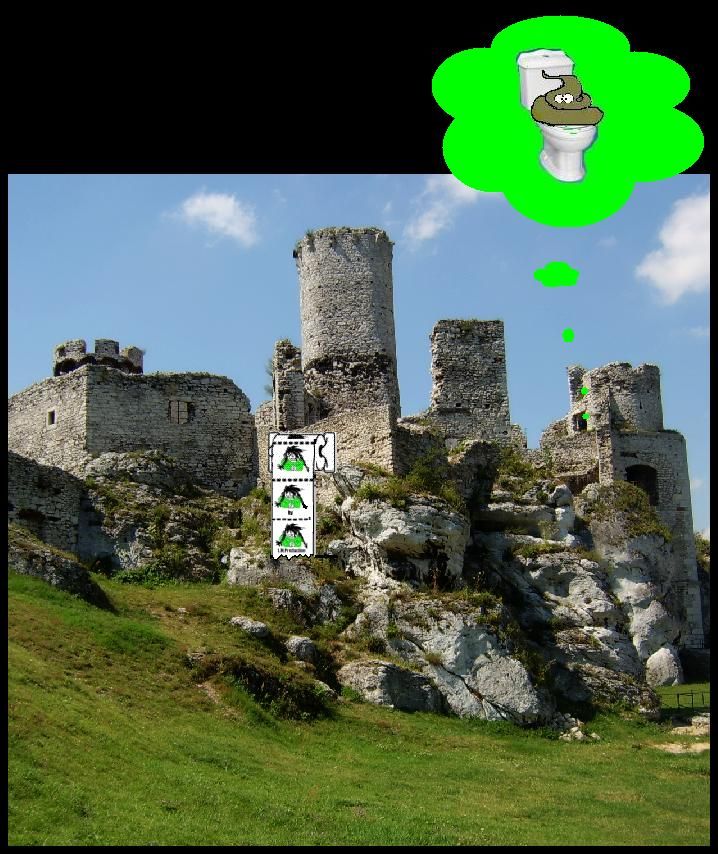 Kiedy zaczęła się era spódnic nad kostki i jednej pary gaci, wyzwolone kobiety nareszcie poczuły się dobrze. Pewnie dlatego zaczęły popalać po kątach cygara i umawiać się ze sobą na randki. Co mnie niepomiernie cieszy.
Z wyrazami Redakcja via ==>>