Piszecie do mnie w sprawach technicznych, piszecie w sprawach osobistych za co bardzo dziękuję. Zwłaszcza osobom, które są po kroplówce życia i włosy na głowie są dla nich naprawdę ważne. Dziękuję też tym szalonym kobitom, które tak jak ja uwielbiają codziennie wyglądać inaczej od "stóp do głów' moje duszki :)
I teraz odpowiedź na kilka pytań właśnie dotyczących lace wig, które zamawiam.
Czym się różnią włosy malezyjskie od chińskich, idyjskich i tzw virgin.
Chińskie są włosami o najwyższym stopniu sztywności. Nadają się najlepiej to tzw peruk
Silky straight
czyli prostych, gładkich. Zazwyczaj są tanie, obierane chemicznie z łusek i barwione na stałe. Peruki wyglądają cudownie ale uwierzcie mi, że po pięciu myciach nie uda Wam się ich rozczesać nawet grabiami bez zastosowania odpowiednich odżywek.
Już szybciej was reanimuja z podłogi z omdlałą grabią w grabii niż bez pół kilo odżywki uda Wam się reanimować swojom fryzurę.
Peruki silky straight wyglądaja bardzo nadobnie i sa robione oczywiście w różnych długościach. Zazwyczaj od 8 cali do 26 cali / cal= 2,54cm/ bardzo gładkie. Jak lustereczko powiedz przecie normalnie
Drugim rodzajem peruk prostych jest
Yaky straight
o lekkiej strukturze. Te robione są z czterech rodzajów włosów od chińskich, indyjskich, brazylijskich do malezyjskich. Według mnie wygladają mniej elegancko ale są za to bardziej "puszyste" To tak jakbychta se rano wysuszyli głowiznę w dół i zatrzepotali skalpem do tylca. No dobra. Ponieważ nikt nie zrozumiał, to macie na fotkach :P Poza tem użyteczność Yaki jest dużo krótsza niż silky. Te to dopiero się czeszą bez odżywki! Można se zapakować całe grabie i przyłozyć łopatom w łeb i nic.
Trzeciom kategorią włosów prostych są
Kinky straight
. Jak wygladają? Jakby pierun strzelił w orginalny wyprost porcelanowy Afroamerykanina. Takie są nie za bardzo eleganckie. Ale tak właśnie wygladają włosy Afroamerykanów po wyprostowaniu. Jak kto lubi to ma. Przeokropnie źle się noszą i czeszą więc szkoda kasy moje duszki.
Najpiekniejsze są
Virgin hair
. Nie skrobane z łusek, nie obrabiane i nie farbowane chemicznie. Można je traktować zwykła farbą, odbarwiać i znęcać się nad nimi w nieskończoność. Spać, rzuć je na dobranoc, straszyć nimi sąsiada, znaczy wyskoczyć z peruką tył na przód na niego czy coś. Najwięcej virgin hair pochodzi z Rosji i są najdroższe. Na przykład dopłata do peruki z virgin wynosi około 80-150 USD w zależnosci od długości. Ale za to jakie sa piękne i jak pięknie się noszą to babcia Redakcja słów ni mo. Po Beyonce widać jak zamachnie głową na scenie.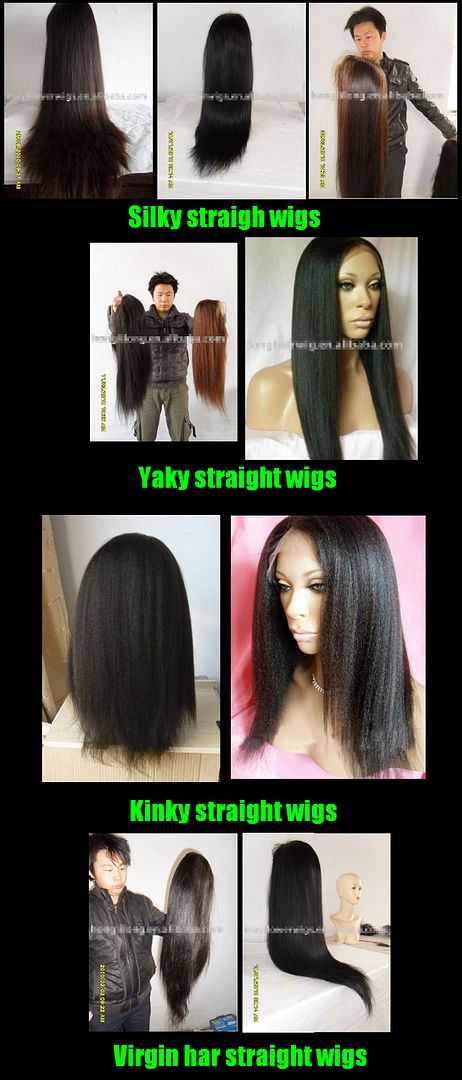 Jak mata pytania to odpisuję na emaila.
Kolejna notka słodka o deep wave wigs i o curly wigs, gdzie zaanonsuje Wam na co uważać w necie przed kupieniem czegoś za 400 USD na ebayu
Usciki!
GrossBoss
p/s dziekuję Alexowi Statyście