Godzina 7.00
Budzik dostaje w zęby telefonem komórkowym bo zaczęły wyć w tym samym czasie. Jest środek nocy i sama nie wie ile członków jej wyrosło a ile nie, bo nie może trafić w zegar. Zaspana drapie się w głowę, poprawia włosy i ostrożnie opuszcza najpierw prawą stopę na dywan. Najpierw prawą, bo jak opuści najpierw lewą to cały dzień będzie do dupy. Idzie słaniając się do łazienki. Siada... Sika mamrocząc pod nosem. Wstaje... Bierze watkę, tonik i zaczyna się ceremonia...
Po wydobyciu z siebie 100 zakazanych przez kulturę i Biblie słów na temat swoich oczu kaprawych i zmarszczek jak Wielki Kanion idzie obmyć swe boskie pogniecione ciało pod wodą. Rozprostowuje je, potem wyciera i odziewa. Odziewanie trwa przez pół godziny, no chyba, że Prawdziwa Kobieta przygotuje sobie coś poprzedniego wieczora. Pod warunkiem jednak, że Prawdziwa Kobieta akurat nie uprawiała seksu lub się nie upiła przy telenoweli. No więc jest już odziana. I bardzo niezadowolona. Chyba, że założyła nową rzecz aby zajaśnieć jak Gwiazda Zaranna przed czeladzią w pracy...
Zaczyna się szukanie w odchłaniach torebki. Tusz do rzęs przeprowadził się chyba do Czechosłowacji, a szminka do Jugosławii. Tam najłatwiej by było je znaleźć. Prawdziwa Kobieta z westchnieniem zaczyna więc wygarniać. Wyciąga z czeluści torby swej ogromnej o wymiarach 20X20cm: osiem biletów autobusowych z roku 1992, dwie torebki zwietrzałej herbaty Lipton ( co ją tam zapakowała chyłkiem sześć miesięcy temu w pracy jak zapomniała kupic do domu), Stare rajstopy ( to te z Wigilii jak jej oczko poszło), notes z telefonami, roztopione toffi, dwie oklejone okruchami z pogniecionych ciastek landrynki, sto pięćdziesiąc rachunków i wyciągów z bankomatu, SZMINKA! ...aaaaa... to nie ta...Ta nie śmierdziała jak zepsuta dętka... i jeszcze....i jeszcze...i jeszcze...
Na końcu wyciąga tusz. Szminkę trafił szlag. W torebce jej nie ma! Nie ma, bo stoi grzecznie w łazience pod lustrem. Nie wyszykowana i wkurwiona do granic swej kobiecości, Prawdziwa Kobieta zasiada za sterami samochodu a makijaż kończy w korku. Zapomniała jeszcze nakleić plastry na pięty, bo nowe buty są zajebiste ale lubią zjadać jej stopy po kawałku. Uczesać też się zapomniała, ale to nic.
W pracy powinien być jakiś widelec...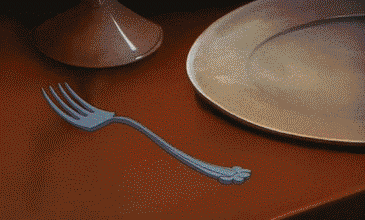 Z wyrazami GrossBoss via ==>>
Fashion Fict Faction by LMProduction Part 1.
Fashion Fict Faction by LMProduction Part 2.
Fashion Fict Faction by LMProduction Part 3.
Fashion Fict Faction by LMProduction Part 4.
Prezencja: Łazienna
Statyści: Widelec