... czas upływa mi jakby przelatywał przez palce w tempie werbli. Może by tak trochę zwolnił? Dopiero dzisiaj wykaraskałysmy się z curóchną z okrutnej nie wiem co to było chyba anginy czy co. Spędzam więc dni latając rano do przedszkola, potem do pracy, po pracy do szpitala, po szpitalu do domu do moich map, książek, testów zabójców, gdzie Beskid Niski pierdaczy mi się elegancko z tym Sądeckim.
/poproszę o NIE ZADAWANIE MI NA EGZAMINIE PYTAŃ O REJONY POWYŻEJ 500 m.n.p./
A spieszyć się muszę, bom ostatnim rocznikiem pilotów co licencjum miedzynarodowe może uzyskać. Bez tego o pracy rezydenta w Egipcie mogę sobie tylko zamarzyć :/
Tomas jest już w szpitalu od tygodnia, więc odwiedzamy go z Leilą jak tylko możemy. Jak widać Panna L. zarządziła i została wyposażona w tak zwany zestaw operacyjny :) Pielęgniarki na diabetologi adoptowały mi dziecko od pierwszego dnia. Mała asystuje przy kroplówkach, pigułach i ogląda z zainteresowaniem cukrzycowe stopy. Załozyła wszystko oprócz fartucha, w którym wyglądała jak niebieski namiot. Rękawy wlekli się za nią pół metra a nogi miała na wysokości kieszeni.
W sumie taki fartuch nie jest zły. Jak wydaje paszczakiem "ja chcę!" można ją w ten fartuch zawiązać na supełek i wystawić jeno na chwilę otwór gębowy celem podania kolacji :P
Po kolacji można spowrotem schować Pannę-Ja-Chcę w rękawie.
Dobra.
Bo wyjdę na srogo matkie i mnie ktoś zadenoncjuje w opiece społecznej.
Grossbossa blog lezy odłogiem, ale obiecuję iż dam radę coś jutro dodać. Chyba, że liczba czytelników spadnie mi o kolejny tysiąc.
Może to znak aby powolutku przestac pisac o innych...?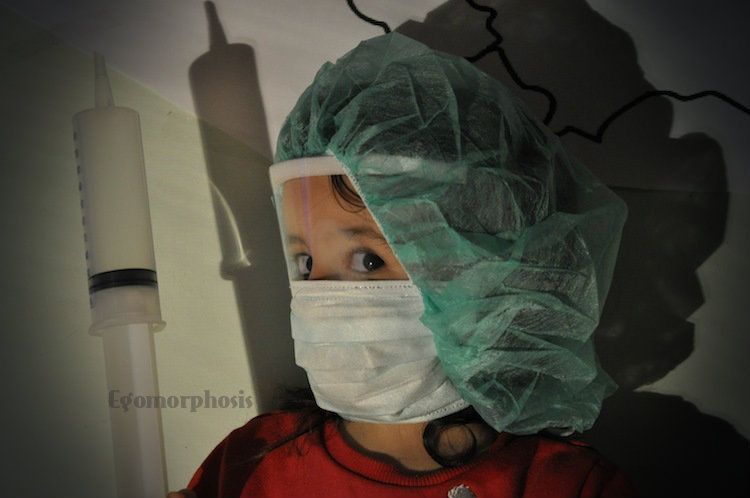 new in